Message On Preparedness from Alex, the CEO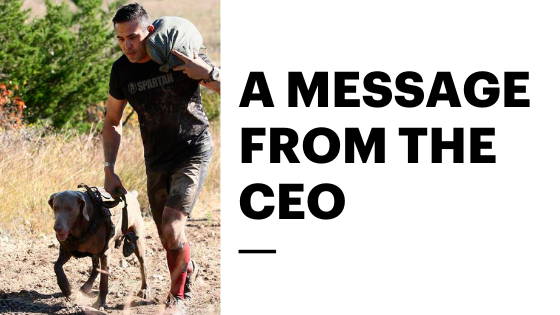 As former Navy SEALs, we know the importance of being prepared. We would rather be ready for something that ultimately never happens than be unprepared, especially if preparation is easy.

In some cases, preparing is a lot of work. For example, it took a lot of time, effort, and money to prepare for the missions we used to run as SEALs.

But preparing for other events can be a lot easier and far less expensive.

We've all seen the news surrounding COVID-19 / Coronavirus. It's still unknown how it will run its course in the United States, but we are preparing for disruptions to our daily lives and would like to help you prepare, too.

FEMA recommends maintaining a two-week supply of food and water in case of an emergency. Those foods should obviously be non-perishable with a shelf life far longer than just 2 weeks.
A Great Addition to Your Emergency Kit
We designed Frog Fuel and ProT Gold with a Stanford biochemist to provide the

most powerful, bioavailable protein nutrition in the world.
Our collagen protein products are

shelf stable and consumable for 2+ years.

 
Frog Fuel and ProT Gold are complete proteins that

boost the immune system

by increasing glutathione production in the body.
They are

ready to drink

so you don't have to waste any water on mixing.
They are packaged in

single-serving packets or multi-serving bottles

with measuring caps so you never take too much or too little.

For those reasons, ProT Gold and Frog Fuel Power are great additions to your emergency preparedness kit.

Those are also just a few of the many reasons that over 3,500 medical facilities trust our protein products to provide maximum nutrition to tens of thousands of their patients.
How We're Helping You Prepare


We want to ensure our products are available and price-accessible in case you need to stock your pantry for an emergency.
With that in mind, we're having a case sale with a

20% discount on orders of 6 or more

of our

ProT Gold 30oz bottles

and

Frog Fuel Power Regular

products.
The discount will automatically be applied at checkout.
This sale is

limited to only 400

cases

because that's all we have to sell right now.  

With over 20,000 past customers, I expect us to sell out quickly. We've already seen many customers making larger than usual orders over the past 2 weeks.

I know a sale like this could be disruptive for us if we go out of stock, but we want to ensure our products are accessible to any families that may not have their preparation kits stocked and need to stay at home for the next few weeks.

Stay safe and best wishes to you and your families. We hope to hear from you all once this is over.

Best,
Alexander Kunz
CEO, OP2 Labs
---