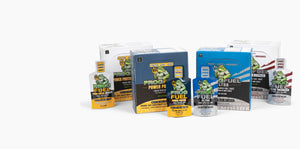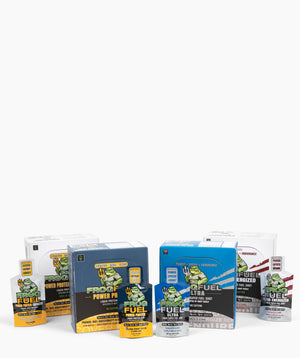 Our products have many innovations that separate them from conventional collagen products.
Nano-hydrolyzed for Maximum Absorption: Frog Fuel Collagen is broken down naturally with a fruit enzyme (not heat or acids like other products) to a molecular weight of 2000 - 5000 daltons. This allows certain peptide bonds in the protein to remain intact while also facilitating incredibly rapid digestion and absorption. Frog Fuel is proven to digest 4x faster than other protein supplements. 
Complete Protein with 22 Amino Acids: While native collagen is exceptionally high in certain amino acids, it is naturally an incomplete protein which is missing some crucial ones. We fortify Frog Fuel with Tryptophan, Histidine, Methionine, Glutamine, Cysteine, and Taurine to make a complete protein that is more powerful than other collagen products.
Manufactured in the USA. Our collagen is produced domestically here in the United States.
Yes, you can take it anytime. Many customers take Frog Fuel first thing in the morning, right before bed, or various times throughout the day.
There is no refrigeration required, but it can be. Some of our customers like to refrigerate the product because they enjoy a thicker consistency.
Yes, however, we do not recommend any of the energized products for children because they contain caffeine.
Our primary protein source pure and natural nano-hydrolyzed protein. We use natural fruit enzymes to break down the peptide bonds to create a pure and natural powder. It is Non-GMO and naturally contains no lactose, gluten, or soy.
Frog Fuel is manufactured in the United States. Unlike many other collagen products that are bulk procured from overseas, our OP2 Labs Nano Hydrolyzed Medical-Grade Collagen is made in the United States. We use a proprietary process to create one of the cleanest and purest sources of collagen in the world.
Yes, absolutely. Frog Fuel products are Gluten Free.
Frog Fuel products are safe for diabetics, containing only 9mg of potassium and trace amounts of phosphates per serving. 
Yes, we use sucralose as a sweetener in many of our products. Based on the predominance of well-designed, peer-reviewed studies, sucralose is regarded as a very safe alternative to sugar by almost all medical professionals.
A recent, scientifically questionable study raised concerns about a specific type of sucralose, sucralose-6-Acetate (S6A). We confirm that S6A is not present in our sucralose even at 0.001% sensitivity level. 
Yes! Our products are made up of a proprietary nano-hydrolyzed collagen protein. Collagen is the most abundant substance in the skin, connective tissue, muscles, and tendons, besides water. It's also the most important set of amino acids in the lining of the colon, working as the preferred source of energy for structure and healing. This building block is essential for restoring the integrity of a battered intestinal lining. Read More
Collagen is what your body uses to heal almost every tissue including bone and our ProT Gold formula is proven to accelerate healing. Read More
Yes! Frog Fuel products are safe to consume by individuals diagnosed with Irritable Bowel Syndrome, also referred to as IBS.  
Frog Fuel Collagen Protein is naturally hydrolyzed with a proteolytic (fruit) enzyme (no heat, acids, or chemicals) to a molecular level of 2000-4000 daltons and is manufactured in the USA.
Frog Fuel has Type 1 and 3 collagen.
Frog Fuel liquid protein has been determined to be of nectar-like consistency for clinical healthcare use. Under the IDDSI framework it is a level 3 (moderately thick) drink.